Best Practices in Patio Cover Design

Not Expensive Patio Covers In Houston
It's not so important that you know exactly how you want to treat all these details. What's important is that you consider each one. Some will make your patio cover function better. Others will make you feel better about your home improvement.
Buy what you can afford
You've heard of being "house poor"—with payments so high, you can't afford furniture for the living room. Well, you'll need furniture for the patio, too. Buy a patio cover that fits your budget. You don't want to exhaust savings, and if you borrow to pay for it, you don't want payments that, along with your mortgage and other bills, leave you strapped. If you can't afford any but a poor-quality patio cover, discipline yourself to save toward the purchase of a high-quality cover.
Make your patio cover work with your property
Do you have a garden? A pool? A yard where the kids play? Make sure you'll see any or all of these areas from under your patio cover.
Make your patio convenient
Consider placing your covered patio adjacent to the kitchen and/or dining room. You'll be near the food preparation area and near a table where you can spread out a buffet. If your covered patio is freestanding, seriously consider running electrical cables underground to power an outdoor refrigerator. (This a job for a pro.)
Respect second-story windows
This is especially critical in the snow belt. A roof that's too close to a second-story window could cause serious leaks as snow accumulates. Even outside snowy areas, a patio roof that's too close to a second-story window could allow splashing rain to cause a mess inside if the window is left open.
Pitch the roof slightly
Water, including from melting ice and snow, runs downhill, so you want a flat roof to angle downward slightly away from the house. A downward pitch of a quarter-inch for every foot of projection from the house is recommended.
Font: RENAISSANCE
IG Construction & Patio Covers has served Houston and surrounding areas since 2010 as a patio cover specialist, we offer a two-year warranty for materials and workmanship and 5 years warranty for structural components. We offer detailed PDF drawing with specifications, dimensions, and elevations. So you can see a preview of your project from preliminary design, to the project completion.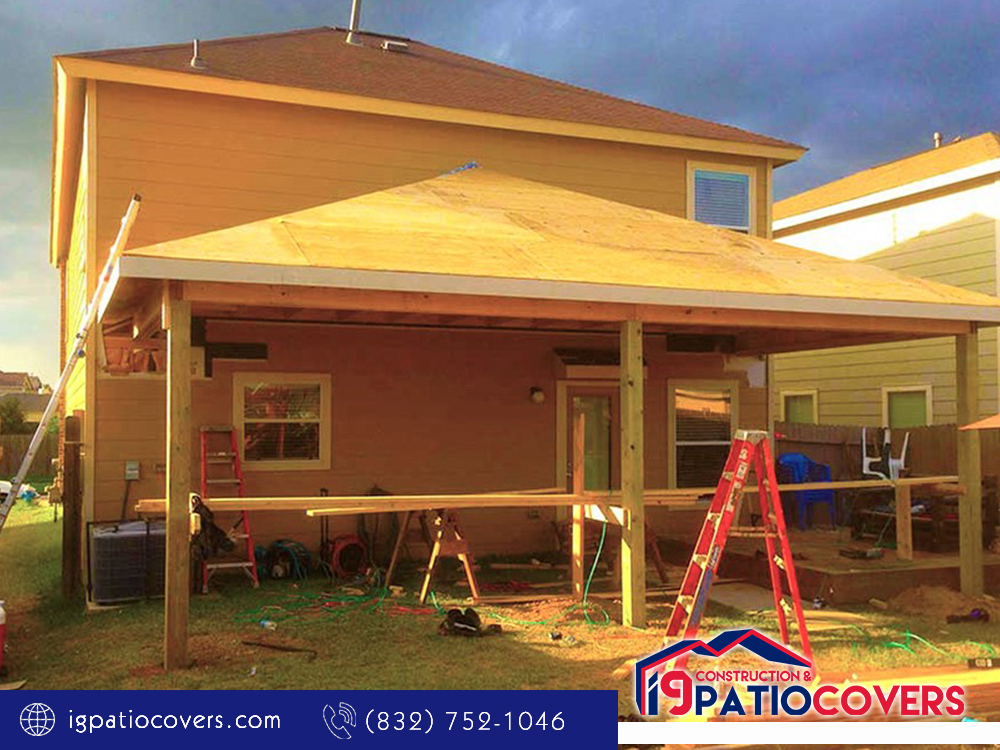 keywors: patio covers in houston, patio covers services in houston, patio covers company, patio covers contractor, patio covers specialist, patio covers builder, patio covers installer, patio covers installation, patio enclosures, covered patio, custom patio covers, wood patio covers, patio covers near me, accessible patio covers, the best patio covers, reliable patio covers, good price patio covers, not expensive patio covers, IG Construction & Patio Covers